The New Brunswick Wildlife Federation with support from the Department of Natural Resources announces the Fishing and Hunting License Lottery.
One successful Sportsperson will receive free angling and hunting* license for 10 years.
Simply complete the entry form and mail it along with your entry fee to:
New Brunswick Wildlife Federation,
PO Box 549
Moncton, NB E1C 8L9
Anyone can apply! Email Sharon for tickets.
Fish and Hunt for 10 Years Entry Form: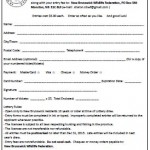 Entries cost $5.00 each or 3 Entries for $10.
Enter as often as you like and good luck!